Celebrate Two Years of Wellness
The Spring winds stir up growth and change. Deep roots and flexibility allow for growth and change without being blown asunder.
Come celebrate Spring and its bounty.
New Moon Family Acupuncture and many of the other practitioners of the New Moon Family Wellness Center are celebrating two years in our current location.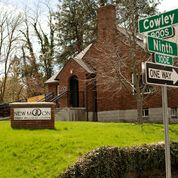 We also have new and returning practitioners coming to the center.
Gwendolyn Sheveland, a Certified Structural Integrator and Licensed Massage Therapist is joining our ranks of capable, effecting and empowering practitioners.
Virginia Pham, an East Asian Medicine Practitioner and RN is returning to her acupuncture practice after maternity leave.
To celebrate the continued success of the center and to welcome our new and returning practitioners we will be having an open house.
May 5th, from 4pm-6pm.
906 South Cowley St.
Spokane, WA
Bring yourself, friends and family.
Light refreshments will be served.
Prizes will be raffled at the end of the event.
RSVP desired but not required. We'd love to see you!